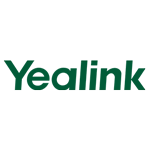 $459.32
The Yealink T58A is Yealink's premier IP phone offering. This phone is identical to the T58A with Camera, but lacks the CAM50 accessory camera for two-way video calling (but it's still able to show video calls without the camera). The camera can be purchased separately if you want to upgrade it later.
The T58A is based on Android and is able to run many Android applications, though it lacks support for the Play Store. It has a huge 7″ adjustable touchscreen display and a webcam on top for video calling. Because of the camera, it is able to be used to view video doorphone calls, useful in reception roles. This phone really stands out on a desk and looks really sharp. It both looks and feels high end.
The touchscreen is intuitive and easy to use. However, for higher call volumes we prefer the cheaper Yealink T54W for its physical keys. Overall, the T58A is a solid phone with unique features useful in specific applications. If you don't need them though, there are cheaper alternatives available.

Additional information
Specifications

7.0" adjustable colour touchscreen
Android 5 Lollipop
Gigabit Ethernet passthrough
29 speed dial keys
WiFi + Bluetooth
USB port

Dimensions

Dimension (W*D*H*T):
259.4mm*220mm*215mm*42.6mm

Applications

High End Executives
Reception Doorphones
SIP-T58A
The Yealink SIP-T58A is a simple-to-use smart media phone that provides an enriched HD audio and video calling experience for business professionals. This all-new smart media phone enables productivity-enhancing visual communication with the ease of a standard phone. Based on Android 5.1.1 operating system, the SIP-T58A features a seven-inch adjustable multi-point touch screen, integrated Wi-Fi and Bluetooth 4.0+ EDR, and it is coupled with a built-in web browser, calendar, recorder and more, which also support the installation of third-party applications for business customization. More than that, you can easily turn your SIP-T58A smart media phone into a video phone ready with an optional removable two-megapixel HD camera CAM50. The Yealink SIP-T5 Smart Media Phone Series strikes an exquisite balance between simplicity and sophistication, offering an all-in-one communications solution for today's busy executives, managers and teleworkers.
Enhanced HD Video and Voice for Exceptionally Clear Communication
• T5S Smart Media Phones deliver crystal-clear immersive conversations thanks to Optima HD voice and Yealink Noise Proof technology that effectively eliminate non-human background noise.
• The T58V and the T58A support HD video communication with Yealink's CAM50 (optional on the T58A). In addition to an adjustable seven-inch touchscreen interface, the phones enable users to access lifelike video calls easily and to adjust the viewing angle flexibly. Increase communication productivity by making every conversation clear, comfortable and focused.
One-touch Operation and Control
• Yealink Smart Media Phones feature a seven-inch capacitive touch-screen for smooth and delightful operation and control. The intuitive touchscreen enables users to access to and manage the telephony features with a simple touch of the screen.
• The phones offer multiple adjustable elements, including an adjustable screen and camera on T58V(A), and a two-angle stand on T56A. This flexbility accomodates a user's preferred viewing angle and base height, and integrates into variety of usage scenarios.
Deliver Versatility with Deep IP Intercom Integration
Customers can enjoy a high ROI by making the phone a two-in-one tool for both business collaboration and for door monitoring and unlocking. Versatile and smart, the T58V and T58A integrate with IP video intercom systems from major vendors in the market, including 2N, Baudisch and CyberData. Deliver true ROI and cost-efficiency to customers.
Advanced features include:
• Visitor preview before picking up the phone;
• One-touch door open (with or without answering the phone);
• Easy monitoring by connecting via the video intercom or video surveillance, a setup that is ideal for warehouses and logistics.
Effortless Business Customization
• Based on the Android OS, the phones feature great capabilities that integrate seamlessly with third-party applications. Officially supported apps include BroadSoft Communicator, Skype, Skype for Business and Zoom Meeting.
• Support for Yealink's SDK (Software Development Kit) allows service providers and Yealink to work together to strengthen and deepen integration and to jointly develop app features on the phone. Help improve communication efficiency by lowering the learning curve, providing more features and unifying user experiences.