If you have activated the Fax server option, you will be able to send and receive faxes through the Business Phone Portal.
Prerequisites: To get started, you will first have to log in to the portal. You will also need to have the Fax option enabled for your account. To add faxing to your account, contact us at (514) 400-0226 and a member of the EMAK Talk customer success team will be happy to help.
Sending a Fax
Once signed in, click on Apps > Fax Server

You will then see the main Fax Server page.New: Create a new fax to send.
Inbox: Faxes successfully received.
Sent: Faxes successfully sent.

Fill out Information: Note that the items in bold are required. If you fill out any information in the Subject or Message field, your fax will include a cover page. In order to see what your fax will look like, you can click on the Preview button before sending it. Once you are happy with your fax, click on Send. This will start faxing immediately.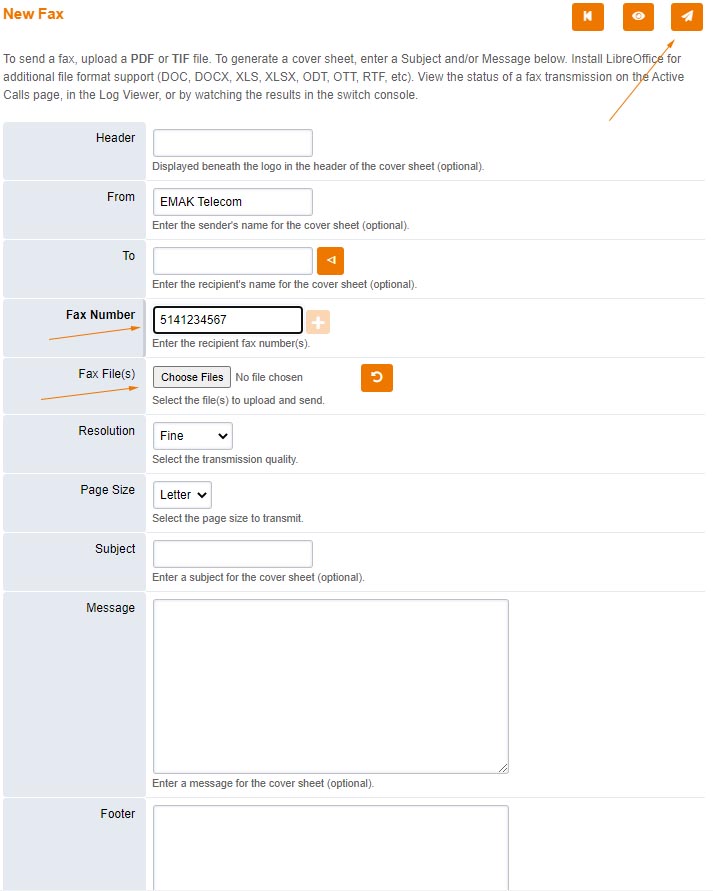 Wait for ConfirmationWhen a fax is sent or received, you will receive a notification email to tell you the status of the sending. This email serves as your delivery receipt. Additionally, you can click on Sent under Apps > Fax Server. If your fax appears there, that means it was sent successfully. If a fax fails, it will NOT appear in the Sent list.
Sent & Received Faxes
Inbox
Click PDF to view the fax or right click on PDF and left click on Save Link As. If you defined and email address in the email field you will receive the fax also to that email address.
Sent
Click PDF to view the fax or right click on PDF and left click on Save Link As.
Posted on December 6, 2019