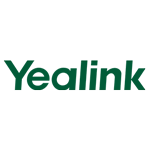 $119.95
SIP-T33G
Entry-level IP Phone with 4 Lines & Color LCD
An entry-level color screen IP phone with high performance, Yealink SIP-T33G offers support for 4 lines and includes local 5-way
conferencing. For its fashionable appearance as well as an extra-large 320×240-pixel color display with backlight, it brings comfortable
operation experience and clear visual experience for users. Designed with a new powerful chip, it helps greatly improved work
efficiency. Additional features include a dual-port Gigabit Ethernet with integrated PoE, EHS35 support for Yealink wireless headset, and
adjustable multi-angle stand support. These features allow the SIP-T33G to be a high-quality but cost-effective classic IP phone that
maximizes productivity in both small and large office environments.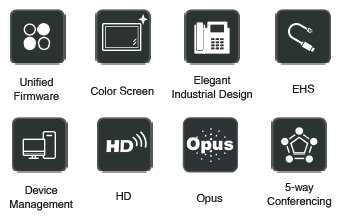 Additional information
Specifications

• Yealink HD Voice
• 2.4" 320 x 240-pixel color display with backlight
• Dual-port Gigabit Ethernet
• PoE support
• Opus codec support
• Up to 4 SIP accounts
• Local 5-way conferencing
• Support EHS Wireless Headset
• Unified Firmware
• Support YDMP/YMCS
• Stand with 2 adjustable angles
• Wall mountable

Dimensions

Dimension (W*D*H*T):
212mm*186mm*146mm*42mm

Applications

Office
Receptionist
Restaurant
Common Workspaces
Break Rooms
Warehouses
Key Features and Benefits
Stronger Performance, More Possibilities
Equipped with powerful chip, the T3 series owns a stronger computing ability and
more upgraded functions, which ensures a higher productivity and smoother office
experience. Due to great performance, T3 series is capable to extend more services for
different business demands.
Superior HD Audio, Better Communication
The Yealink T3 series provides distraction-free communications with industry leading
Smart Noise Filtering Technology, which delivers excellent sound quality without
extraneous noises and allows fluent conversations.
Classic Design, Practical Details
Designed by Yealink original team, T3 series inherits the design concept of Yealink IP
phone family. The advanced design including modern appearances and ergonomic
details enables easier and friendly operation experience to users.